This page is dedicated to Scott Ryan's writing.
1.  thirtysomething at thirty: an oral history
thirtysomething at thirty: an oral history was released by Bear Manor Media on June 7th in hard back and soft back. Scott interviewed all the main cast and writers as well as producers, directors and guest actors of the 1987 series, thirtysomething. This book also contains never before released photos as well as the script to the final episode that was never filmed, due to a law suit. Scott combines all the interviews into one episode guide where you can hear the story of thirtysomething from the talented people who created it. With a Foreword by Ann Lewis Hamilton, an Afterword by Joseph Dougherty, an essay by Peter Horton (Gary) and interviews with Ed Zwick, Marshall Herskovitz, Ken Olin, Timothy Busfield, Melanie Mayron, Peter Horton, Polly Draper, Patricia Wettig, Scott Winant, Paul Haggis, Winnie Holzman, Richard Kramer, Dana Delany and many more.
Pre-order a SIGNED Hard copy, personalized by Scott Ryan.
2. Scott Luck Stories
Scott Ryan's debut collection of 20 short stories explores the author's own everyday misadventures of living in modern day America. From the trials and tribulations of corporate office jobs to parenting, Scott Luck Stories will leave the reader laughing out loud while following Ryan's hilarious and offbeat insights into life's unpredictable and absurd twists of fate. Based on the podcast of the same name, Scott Luck Stories have been rewritten for publication and deliver comedy gold while revealing a more poignant undercurrent that delves into the nature of family, relationships, and how we choose to live our lives.
Readers will find delight in this short story collection's sage advice, whether it comes from a fast food chain or the bottom of a dirty diaper, inspiring them to see the upside of just about any situation be it a traffic jam or a job interview from hell. Contemporary and straightforward in tone, Scott Luck Stories are tales we can all relate to, yet it takes a gifted storyteller to reveal the humor that life's worst and best moments deliver 365 days a year.
This e-book is on sale on Amazon.com.
3. The Blue Rose Magazine
Scott is the managing editor as well as a writer for The Blue Rose. This magazine is released every 4 months and covers the Showtime series, Twin Peaks. Interviews with the creators, cast and crew of the David Lynch and Mark Frost's series. Reviews, commentary and essays abound in this full color publication.  It can be purchased digitally from Amazon and iTunes or in hard copy form from bluerosemag.com 
4. The Last Days Of Letterman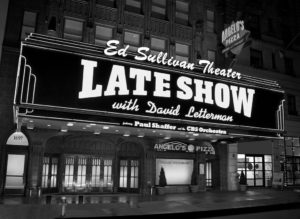 Coming in 2018 Scott will publish the look at the Late Show with David Letterman. The book will focus on the last 6 weeks of The Late Show and the episodes that let Hollywood, politicians and fans say goodbye to David Letterman after over 30 years on late night television. The book will feature interviews from the producers, writers and directors of The Late Show as well as a recap of the last 28 episodes. Like the Facebook Page for more Information.